Drug Wars: the terrifying inside story of Britain's drug trade is the latest book by Neil Woods, Chairman at LEAP UK, former undercover police officer for 14 years and regular panel member, partner and friend of Transform and the Anyone's Child campaign.
Drug Wars is without a doubt a frightening book, and a really gripping one. It is an alarming depiction of the human cost of fighting the drug war in Britain, exposing the devastation, corruption and violence it generates. This real-life crime thriller combines history, analysis and personal stories in what is a well-researched and highly engaging page turner that will transform public opinion about the need for reform.
"How has it come to this?"
This book tells the story of those who fought in the arms race that Britain's drug war has become, namely the police and gangsters - as well as the huge number of vulnerable people who have been harmed. "We wanted these voices to be heard," Neil says, "This is absolutely their story."
Neil makes it painfully clear that the UK's drug laws are failing to protect our communities. Violence has reached unprecedented levels of savagery while police corruption and impunity go hand in hand. Drug gangs use torture and fear to protect their turf and identify spies. Criminal gangs push drugs on vulnerable people in need of support, who in turn are criminalised by the police and made to suffer even more. Young people are exploited through 'county-lines' networks as big-city drug gangs send children to smaller towns and villages to take over the drug market.
The story of Britain's drug war is truly terrifying.
What's more, as the book highlights, since the passing of the Misuse of Drugs Act in 1971, there are actually more drugs than before, drugs are now stronger and they are more varied. In response to this crisis, the UK government passed the Psychoactive Substances (NPS) Act in 2016, banning any substance which is capable of producing a psychoactive effect - excluding alcohol and tobacco. But pushing these drugs out of sight has not decreased the harms they cause.
We were interviewed by Neil Woods about this problem and are delighted to feature in his book.
'We spoke to Jane Slater of Anyone's Child, a group that brings together families of those who have lost loved ones to the drug war.
"The concern is now particularly with the poorest and most vulnerable, particularly the street homeless. We're seeing an increase in harm to do with these drugs in that population, with more hospitalisations and call-outs for the emergency services. This is seriously being felt among the street homeless, and in prisons. There is no indication that overall use has decreased, but plenty to show that the incidence of harm has increased.
"We saw this ourselves in Bristol. Last year we worked with a local community group in Stokes Croft to put a mural up for one month, saying "Save Lives, Legalise Drugs." I was informed that over that month, there were three drug deaths all involving spice, within 100 meters of our mural. We had to add the face of one of the people who died, within a week of it being painted."'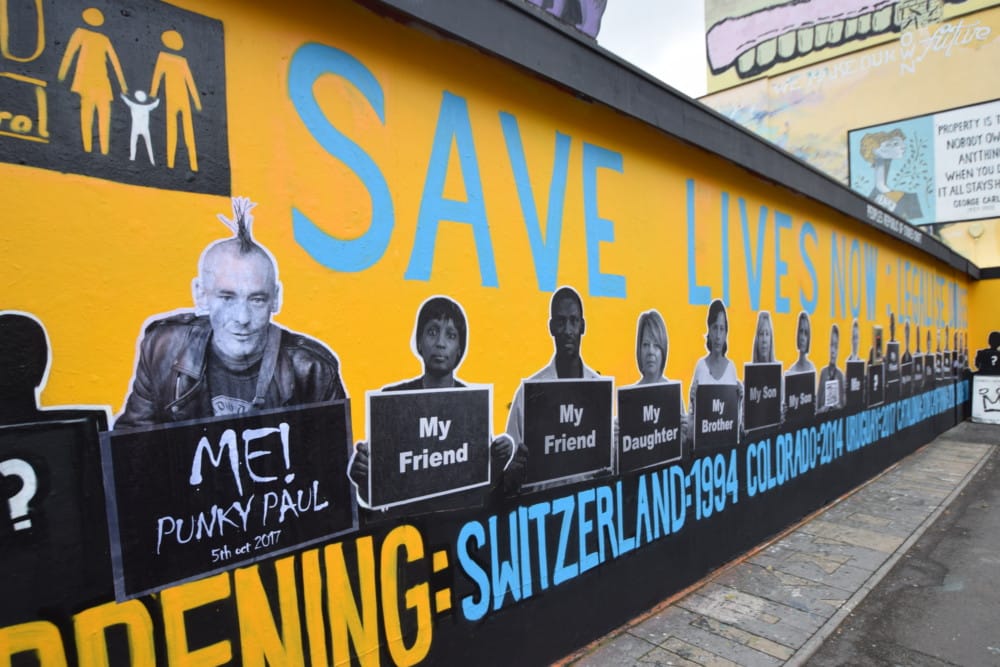 But we can do better. The book calls upon the 'British System' - heroin prescribing for dependent users - as a pragmatic, life-saving solution. We are reminded that under the old British system, drug users were not stigmatised or seen as moral failures. They often lived otherwise 'normal' lives, with jobs and families, and were simply helped to manage their condition in the least harmful way possible.
We believe that we urgently need to rethink our drug laws to keep all of our families safe. Drugs are currently 100% manufactured and distributed by criminals – there is no minimum age, quality control standards, or duty of care. Our vision is that control of all drugs would instead be the responsibility of medical professionals, such as doctors and pharmacists.
Do read this eye-opening book and encourage your friends and families to do so too, so that everyone can see just how awful prohibition is and we can begin to talk sensibly about solutions.
'Drug Wars: The terrifying inside story of Britain's drug trade' by Neil Woods and J.S. Rafaeli (Edbury Press) is available to buy here.